The iPad stand that we designed specifically for car shows and exhibitions, fits 10.5' iPad Air 3, 10.9' iPad Air 4, iPad Pro 11 inch, 10.2' 8th Generation iPad, 7th Generation iPad, and etc. with an elegant, slim design that is easy to unpack and transport.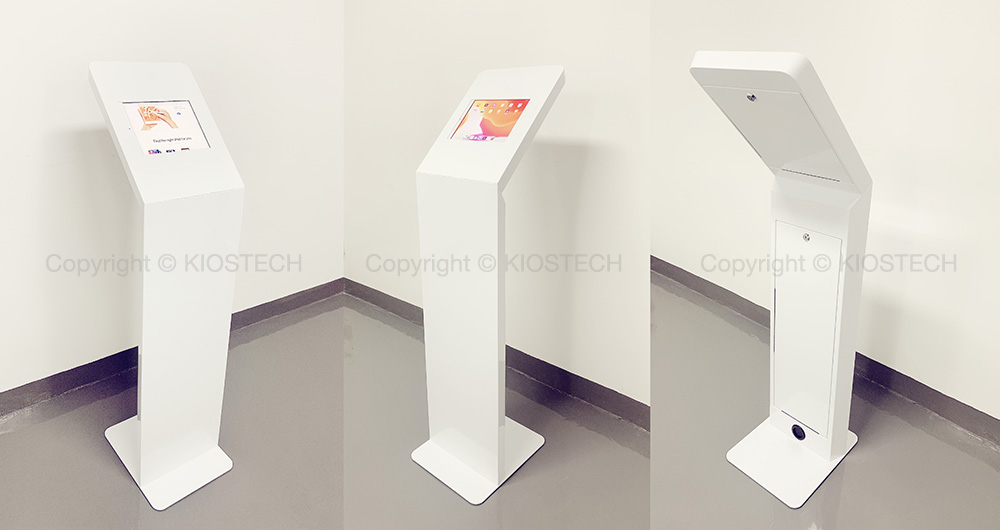 The idea of making the iPad floor stand iPad was generated when a customer asked us to design a product that would be easy to carry to and from an exhibition and would reduce the cost of transporting items to and from an exhibition. Our professional design, production, and quality control teams, as well as our valued customers, repeatedly tested the product to ensure that it was the right size with the smallest possible packaging.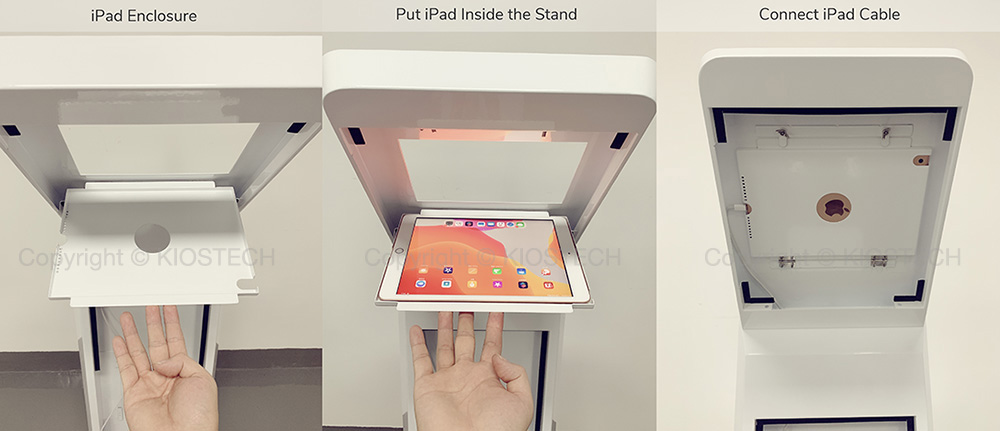 The product is composed of 3 independent parts. The upper part is to fix an iPad enclosure, which has two locks to protect the safety of the iPad. If without the correct key, it is difficult to open even with tools.
The middle is the power strip or power cable management part. We assemble UL approved Four Outlet Power Supply for the US and Canada market. Customers can directly use their plug to connect the power supply, safe and reliable. The ordinary iPad charging cable in the market is not applied well to this stand. It is hard to ensure the power supply of 2.1V iPad in 3m length cable, we specially customize this power cable through the factory, so our customers can easily connect to a remote power plug.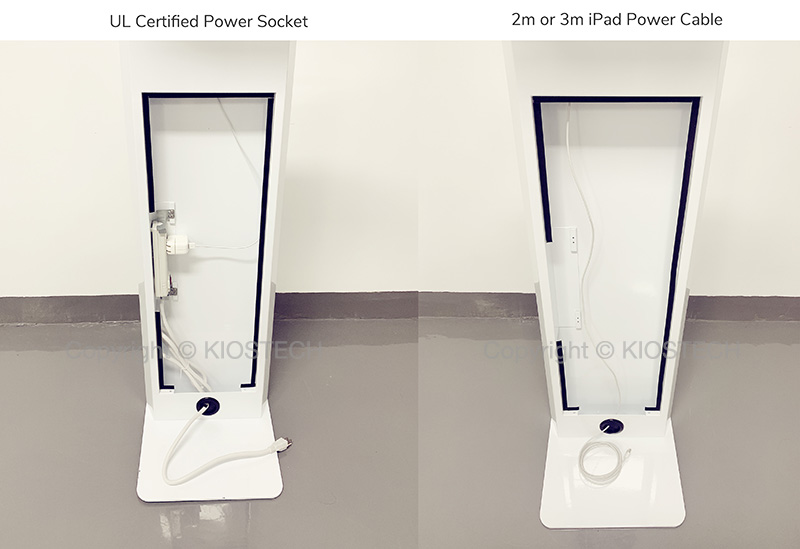 For better weight distribution management, the bottom part of the stand is made of 5mm thick steel plate. The iPad stand is more stable and avoids wobbling during use.
Adopt a high-gloss electrostatic powder coating process, with a smooth surface, make this product better match with the surrounding cars or other exhibits.
Reasonable height, ADA compliant for the US market, and we have tested it several times for handicapped use.
45° tilt angle for easier tactile control.
This iPad stand will be applied more and more to car shows, dealerships, and exhibits.
KIOSTECH operates a Shenzhen, China based more than 10000 square meters manufacturing facility with capabilities that include: shearing, bending, welding, punching, rolling, polishing, buffing, milling, grinding, painting, surface finishing, assembly & shipping.

Please choose the different iPad holder model for fitting different iPad.

iPad Air 1,
iPad Air 2,
9.7'' iPad Pro,
iPad 2017 (5th Gen.),
iPad 2018 (6th Gen.),

iPad 2019 (7th Gen.),
iPad 2020 (8th Gen.),

10.5'' iPad Pro,
iPad Air 3,

11' iPad Pro(1st Gen.),
11' iPad Pro(2nd Gen.),
10.9' iPad Air 4,

12.9' iPad Pro(3rd Gen.),
12.9' iPad Pro(4th Gen.),

12.9' iPad Pro(1st Gen.),
12.9' iPad Pro(2nd Gen.),

iPad Mini 1,
iPad Mini 2,
iPad Mini 3,
iPad Mini 4,
iPad Mini 5,